Under the brand name "CORALINE", with Port Louis being the pivotal port, the m/s "Mauritius Trochetia" ensures a regular liner service to Reunion Island & Rodrigues. At request, the company can also organise night and sunset cruises off the coast of the island.
MSCL promotes intra regional trade/ container-feedering operations and provides the following:-
Passenger Services: inter-Island cruises
Cargo Services: break bulk, containers and consolidation (LCL) of shipments
The m/v "Anna", MPP/ Containerised vessel, has been chartered to service Rodrigues since May 2015.
Rodrigues Island
Currently, the ms 'Mauritius Trochetia' sails to Rodrigues some 3 to 4 times per month, carrying bulk & breakbulk, containerised cargo as well as passengers.
Sea passage is about 36 hours for the Port Louis/Port Mathurin journey and about 24 hours for the return leg.
Reunion Island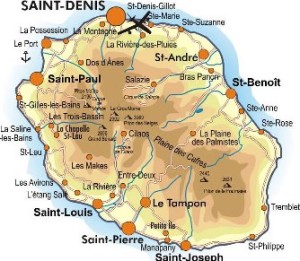 The ship usually departs Port-Louis end afternoon and arrives Port-Reunion early next morning (actual sea passage lasts about 10 to 11 hours).
During the journey, passengers have the choice between reading, viewing a film, playing with friends, or simply taking a deep breath on the deck.
After dinner and the sale of duty free items, passengers can swing to the sound and beat of the live duo / disk jockey / dance music entertainment.
As soon as the ship arrives in Port Reunion, passengers are transferred by bus to the passenger terminal where immigration and customs formalities are carried out.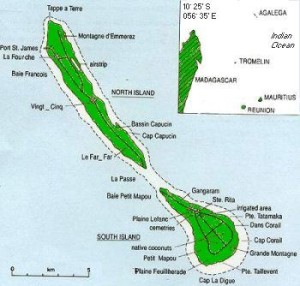 Agalega
Agalega is serviced around four times a year at the request of the Outer Island Development Corporation.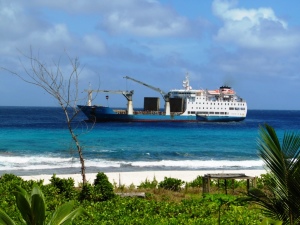 The m/s 'Mauritius Trochetia' carries bulk, breakbulk, vehicles & containers, & on special occasions fuel & gas (on the Rodrigues route mainly).
Rodrigues
MSCL (Rodrigues)
Tel:  831 0640 / 831 0642
Fax: 831 0641
Mr. Jeperles Casimir
Agency Supervisor
msclrod@intnet.mu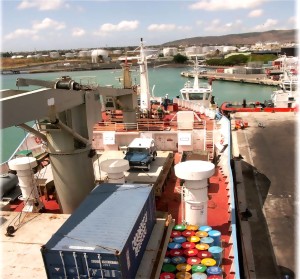 Reunion Island
S.C.O.A.M.
Tel: 262.262. 42.19.45
Fax: 262.262.43.25.47
Mr. Frederic Benard
Head of Operations & Commercial Dept.
frederic.benard@scoam.fr